SOLOSTEEL®
Road safety ... again and again!

Our vocation is to design vehicle restraint systems that are safe, easy to install and cost effective. SOLOSTEEL offer a wide range of solutions that cover most road risk situations.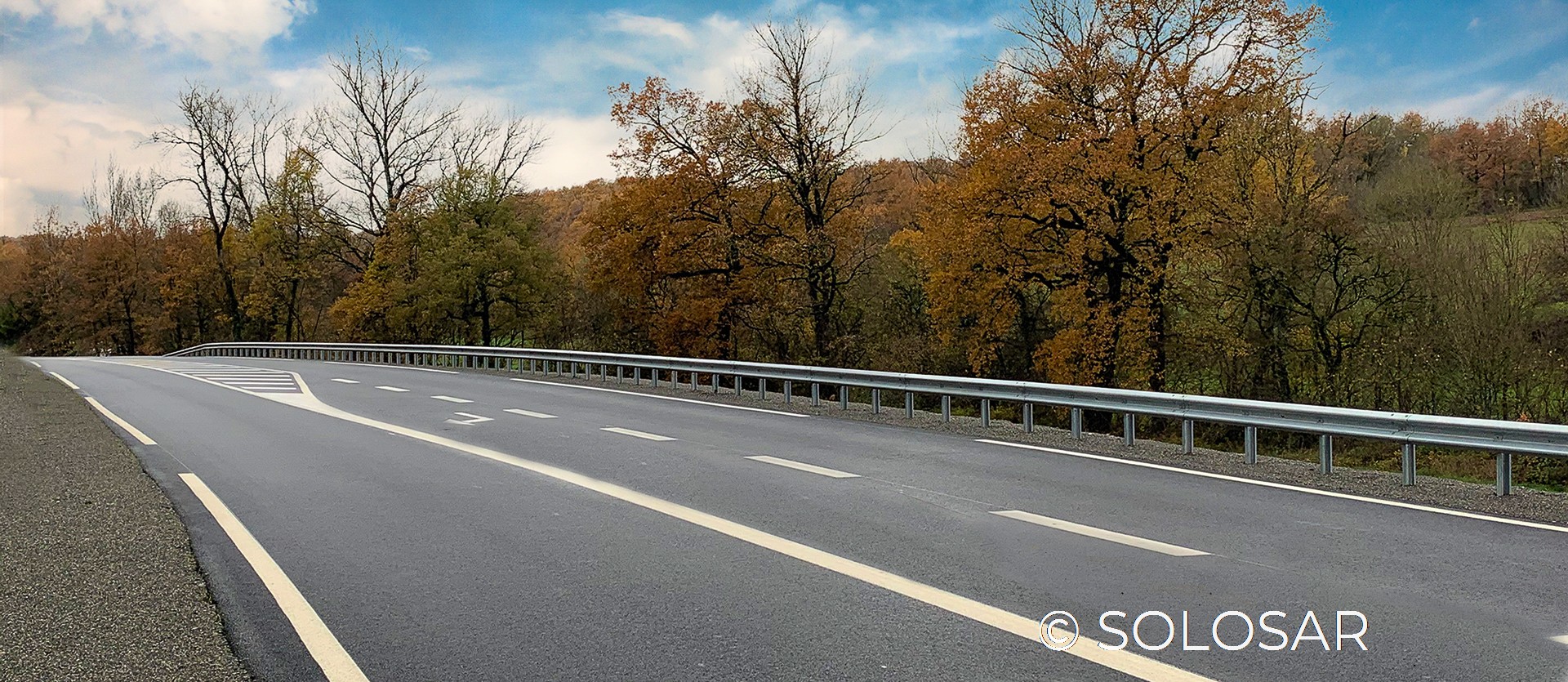 Stemming from SOLOSAR's core business and the know-how of its engineers, SOLOSTEEL® is a range of galvanized steel vehicle restraint systems for all road configurations. SOLOSTEEL® is designed for a wide variety of road configurations (current section, median side or bridge). Compliant with the EN 1317 standard, our systems are designed to ensure optimal protection and safety on the road.
Reliability of galvanized steel
The mechanical capacities of resistance to shocks and deformation of steel allow our systems not to break and to preserve the physical integrity of the occupants of an accidented vehicle.
As for the galvanization process, it provides an anti-corrosive protection to the product that extends its life.
Efficiency to CE and NF (French standard) standards and more
Each system in the SOLOSTEEL® range is designed, tested in real-life conditions and approved by a certified mark (CE marking, NF certification). We design, manufacture and market galvanized steel solutions that comply with EN1317 European standard (containment level N2 to H4B). According to French standard (NF) or exclusive (CE marked), all our products are designed with the aim of improving the safety of road users.
The products of the SOLOSTEEL® range have also been designed for the road operator in order to facilitate their installation and maintenance.
NOTE: installation instructions for road restraint systems are required by the EN 1317-5 standard. This document is written by the manufacturer in its original language. SOLOSAR provides translations of the instructions for products distributed by SOLOSAR for your convenience and better understanding of their implementation. However, in the event of a dispute, only the original document is valid.
SOLOSAR offers a whole range of vehicle restraint systems according all following certifications:

Road safety ... again and again!
Our vocation is to design systems that are ever safer.
With SOLOSTEEL®, we offer a wide range of products that cover most road risk situations.
• Prevention of road accidents
Protection of frontal and lateral obstacles: natural obstacles (embankments, slopes, trees,...) or structural obstacles (lighting columns, bridge piers,...).

• Shock severity reduction
The absorption and deformation capacities of our systems attenuate the phenomenon of excessive deceleration, detrimental to the occupants of the vehicle in distress.

• Motocyclists protection
our protective screens on the road restraint system reduce the danger of impacts in the event of an accidental fall by motorcyclists.

• Protection of construction site personnel : securing work zones by installing mobile steel safety barrier (SMV) for all types of roads.
More infos on our range SOLOWORKS HERE
• Separation of traffic directions : prevention of head-on collisions with oncoming vehicles.
The list is long and certainly not exhaustive of the possible applications of our range of steel road restraint system.
Your project is special, out of the ordinary, unique? Let's share it!
To browse through our brochure please download it

or

have a look on the menu hereby on the left.